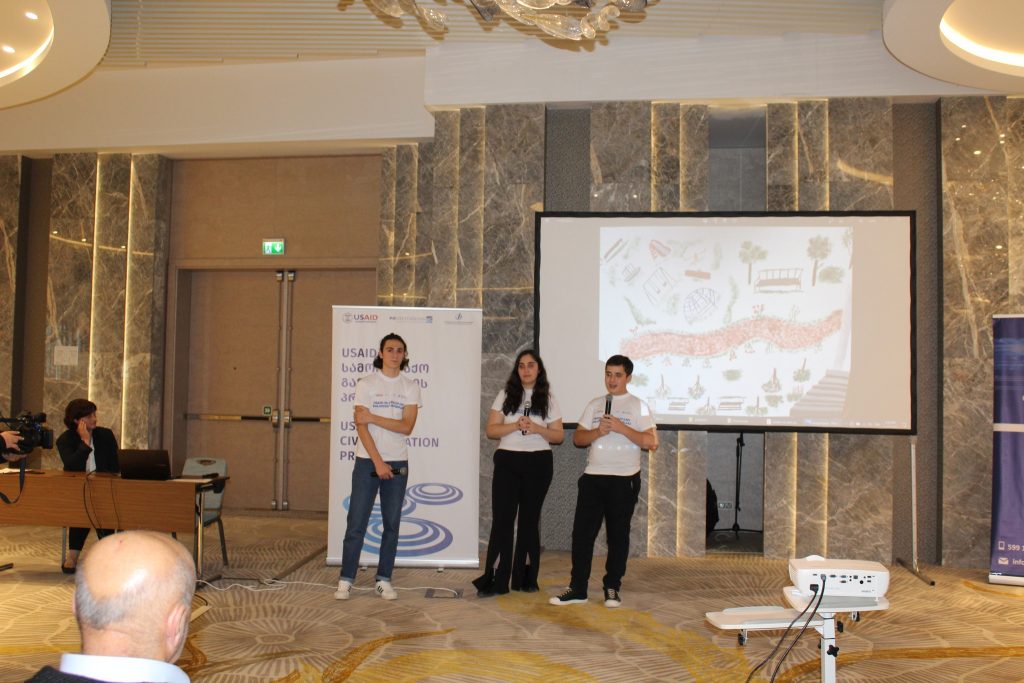 On November 18, within the framework of USAID's civic education program, , a school-business forum was held across the Guria region at Paragraph Hotel & Spa Resorts. 170 people from different sectors attended the event.
At the forum, the representatives of the private sector of the region got acquainted with 20 projects created by the students, which were aimed at solving such social and environmental problems that the students consider urgent. Young people had the opportunity to share their vision with representatives of the private sector and to find companies interested in similar issues that will be involved in the implementation of projects. At the same time, companies offered students internship opportunities at the school-business forum.
The event was opened by Elene Chkheidze, USAID's civic education program private sector engagement specialist, who explained why it is important to strengthen private sector engagement to promote civic education in schools. Aleko Mameshvili, the founder of "Tea Road" association, spoke to the attendees about the importance of agrotourism development. Guram Nikolaishvili, the representative of "Anaseuli Otka" company, discussed the issue of strengthening the local community. Economist Mikheil Chkuaseli also spoke about the importance of regional development. Giorgi Dolidze, the founder of Villa Chkhaveri, spoke to the young people about entrepreneurship.
School-business forums will be held annually in 11 regions of Georgia, in which representatives of local businesses and students from partner schools of the program across the region will participate.
The school-business forum is held within the USAID civic education program, which is implemented by the organization PH International with the financial support of the US Agency for International Development (USAID). The program is supported by the Ministry of Education and Science of Georgia. The partner of the program in the Guria region is the Institute for Changes and Innovations.